TR Custom Parts
141 Ezra St
North Haven, CT 06473
We do all correspondence by email!
mhueffman@snet.net
GENERAL INFO
Home Page
Ordering/Shipping/Returns
Comments
Customers' Cars

BUICK PRODUCTS
----------------------------------
AC RELATED PRODUCTS
AC Cowl Panel
AC Delete Plates
BODY RELATED
Air Dams-One Piece
Headlight Covers
COLD AIR/MAF PIPES
Cold Air Kits
MAF/INLET Pipes
4" One Piece Air Inlet Kit
Up Pipes
FLUID / COOLING
Billet Oil Filters
Dual Fan Kits
Power Steering Reservoir Kit
Radiator-Aluminum/Custom
Radiator Caps
Upper Radiator Pipe Kits
Oil Evacuation Tank
EXHAUST PRODUCTS
3" Dual Exhaust- Stainless
3" Internal Gate Downpipes
3" External Gate Downpipes
Headers
RemFlex Gaskets
EXTERIOR ITEMS
Door Handle Inserts
Lic Plates/ Frames
LED Lights
Wheelcap Overlays
INTERCOOLERS / ETC.
Billet Vacuum Block
Intercoolers -Stock Location
Intercoolers -Front Mount
Intercooler Plates
Intercooler Tags
Throttle Body/Plenum Combo
INTERIOR ITEMS
Console Door Overlays
Console Gear Indicator Plate
Console Overlays
Console Risers
Lower Dash Panels
Gauge Pods
Glovebox 2 Step Mount
Glovebox Plate Overlay Stock
Glovebox Plates
Horn Buttons/Overlays
Pullstrap Screw Covers
Radio Delete Plates
Scan Master Shade Hoods
Seat Bracket Kits
Seat Hinge Overlays
MISCELLANEOUS
Alcohol Injection Kits
Bad Ass Fender Covers
Connecting Rods
Crankshafts ONLY
Flexplates
Fuel Pumps
Fuel Pressure Gauge Kits
Fuel Pressure Hood Bracket
Get Back Seat Brackets
Main Caps/Bearings/Stud KitsSpark Plug Wires
Stock Crank Kits
Stroker Crank Kits
TR-6 Ignition Plate
Trunk Firewall Kit
Valve Cover Gaskets
MOTOR DRESS-UP
Aluminum Pulleys
Battery Cover
Coil Plates
MAF Sensor PLATE
Plenum Spacer
Radiator Hold Down Plate
Translator Lid Overlay
Valve Covers
SUSPENSION / MOUNTS
Crossmember Mounts
Driveshaft Loop
Suspension G-Body
Rear Coilover Kits
QA1 Regular Shocks
QA1 Coil Over Shocks
Motor Mounts
Rearend Cover
Transmission Mounts
TURBO RELATED
Hot Air Turbo Heat Shield
Turbo Oil Drain Kit
Turbo Protector
Turbo Shields


Additional shipping charges may apply to Hawaii and Alaska orders We will contact you with any extra charges needed to be paid before order is shipped.
We are now offering two different in tank fuel pumps from DeatschWerks. DW300 and DW200, read below for the differences and order the one that suits your Turbo Regal the best.
DeatschWerks redesigned the DW300 to offer greater flow with no significant increase in current draw. The new DW300 pump flows 26% more at its peak and 20% more on average. The low amperage draw minimizes pump temperatures, maximizes pump life and reduces stress on OE wiring.
The increases in flow were specifically engineered for high pressures (60-90psi), where forced induction applications need it the most. Conversely, fuel flow has been limited at low pressures (30-50psi) to minimize heat generation in return fuel systems. This dual zone approach results in a flatter flow curve, which maximizes both performance and reliability for supercharged or turbocharged applications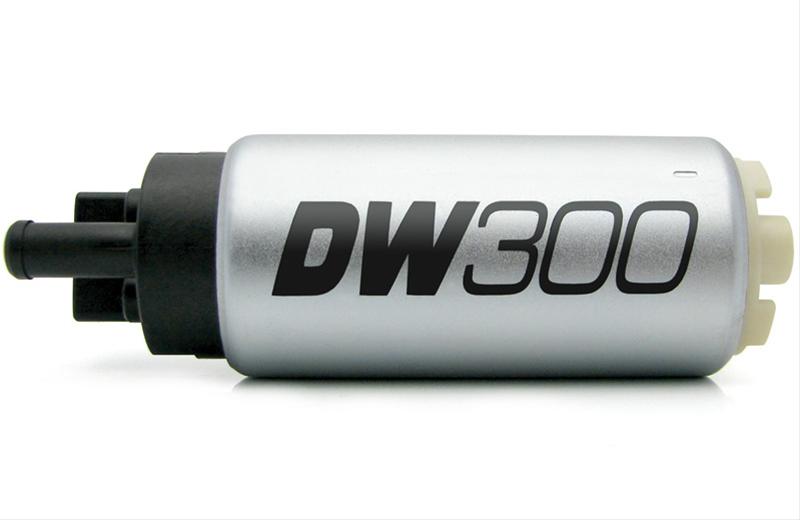 The DW Advantage

| | |
| --- | --- |
| | Flows 340 liters per hour (90 gallons per hour) |
| | In-tank application specific fitment |
| | Ethanol compatible |
| | 3-year no-fault warranty |
| | Quiet and reliable turbine impeller |

Universal pump kit includes:

| | |
| --- | --- |
| | 2"x2" sock |
| | Electrical connector |
| | 4" of fuel line |
| | Miscellaneous hardware |
Everything You Need...Nothing You Don't.
Introducing the DW200 in-tank fuel pump which has all the all the benefits of the DW300 in a lower priced, lower flowing package.
| | |
| --- | --- |
| | Flows 255 liters per hour (67 gallons per hour) |
| | In-tank application specific fitment |
| | Ethanol compatible |
| | 3-year no-fault warranty |
| | Quiet and reliable turbine impeller |
Universal pump kit includes:
| | |
| --- | --- |
| | 2"x2" sock |
| | Electrical connector |
| | 4" of fuel line |
| | Miscellaneous hardware |
DW200 Flow specs
Fuel Pumps
From $99.00 - $169.00


SELECT YOUR FUEL PUMP
FROM THE DROP DOWN MENU BELOW