TR Custom Parts
141 Ezra St
North Haven, CT 06473
We do all correspondence by email!
turboregalcustomparts@gmail.com
GENERAL INFO
Home Page
Ordering/Shipping/Returns
Comments
Customers' Cars

BUICK PRODUCTS
----------------------------------
AC RELATED PRODUCTS
AC Cowl Panel
AC Delete Plates
BODY RELATED
Air Dams-One Piece
Headlight Covers
COLD AIR/MAF PIPES
Cold Air Kits
MAF/INLET Pipes
4" One Piece Air Inlet Kit
Up Pipes
FLUID / COOLING
Billet Oil Filters
Dual Fan Kits
Power Steering Reservoir Kit
Aluminum Radiator
Radiator Caps
Oil Evacuation Tank
EXHAUST PRODUCTS
3" Dual Exhaust- Stainless
3" Internal Gate Downpipes
3" External Gate DownpipesHeaders
RemFlex Gaskets
EXTERIOR ITEMS
Door Handle Inserts
Lic Plates/ Frames
Wheelcap Overlays
INTERCOOLERS / ETC.
Intercoolers -Stock Location
Intercoolers -Front Mount
Intercooler Plates
Intercooler Tags
Throttle Body/Plenum Combo
INTERIOR ITEMS
Console Door Overlays
Console Overlays
Alky Control Dash Panels
Lower Dash Panels
Glovebox Plate Overlay Stock
Glovebox Plates
Horn Buttons/Overlays
Pullstrap Screw Covers
Radio Delete Plates
Scan Master Shade Hoods
Seat Bracket Kits
Seat Hinge Overlays
Shifter Handles
Switch Panels
MISCELLANEOUS
Alcohol Injection Kits
Bad Ass Fender Covers
Connecting Rods
Crankshafts ONLY
Flexplates
Fuel Pressure Gauge Kits
Fuel Pressure Hood Bracket
Get Back Seat Brackets
Main Caps/Bearings/Stud Kits
Stock Crank Kits
Stroker Crank Kits
TR-6 Ignition Plate
Trunk Firewall Kit
Valve Cover Gaskets
MOTOR DRESS-UP
Aluminum Pulleys
Battery Cover
Coil Plates
MAF Sensor PLATE
Plenum Spacer
Radiator Hold Down Plate
Translator Lid Overlay
Valve Covers
SUSPENSION / MOUNTS
Crossmember Mounts
Driveshaft Loop
Suspension G-Body
Rear Coilover Kits
QA1 Regular Shocks
QA1 Coil Over Shocks
Motor Mounts
Rearend Cover
Transmission Mounts
TURBO RELATED
Turbo Oil Drain Kit
Turbo Protector
Turbo Shields



Effective IMMEDIATELY. Due to the outrageous shipping charges these days we will not be shipping to Hawaii or Alaska. If you really want something you will have to contact us first and we can look into how much it will cost.
SPOHN G-Body Pro-Touring Adjustable Sway Bar

Item: 919
$439.00 and up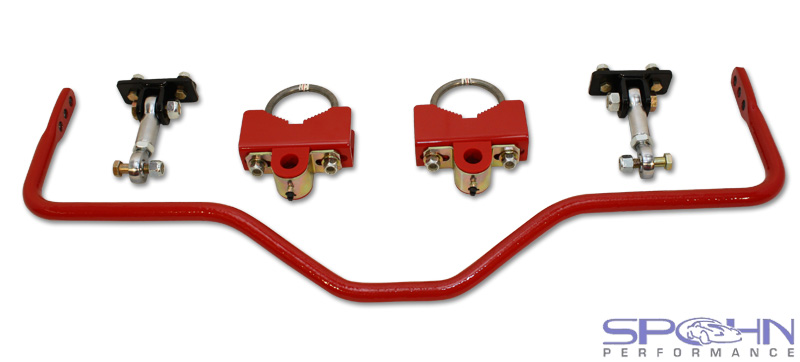 Application: 78-88 G-Body GM cars



This

three way adjustable pro-touring rear swaybar is a quantum leap forward for GM G-Body cars. The factory method of attaching the swaybar to the lower control arms is inexpensive to manufacture but leaves a lot to be desired on a performance car. The long suspension arms have a tremendous amount of leverage which drastically limits the effectiveness of the bar. This is why you sometimes see HUGE rear bars for these cars. The other problem is that when the suspension articulates the bar causes it to bind up. The bigger the bar the more it binds. Our pro touring bar uses end links mounted to the frame crossmember with teflon lined spherical rod ends for bind-free articulation,

we exclusively use extra heavy-duty 5/8" spherical rod ends with Teflon« self lubricating race.

This method also allows much higher rates with a much smaller (22mm) and lighter swaybar. Easily adjust the bar to soft, medium or firm settings in minutes to tune oversteer/understeer. Use the firm setting at the drag strip for flatter launches!



Our bar stock is 22mm (7/8") solid 4140 heat treated spring grade chrome moly steel. The bar is entirely heat formed and coined as one piece. We put our bar through this extensive process to insure that the final product will be the strongest, most durable bar on the market, and that it will be the most resistant to form alteration. Most aftermarket anti-roll bars are cold bent mild steel making them weaker at the bends, and more vulnerable to shape alteration. Sway bar will work with any stock or aftermarket rear end housing and will clear all aftermarket exhausts and suspension components.

Entire kit is a 100% bolt-in installation!!

Specifications:
| | |
| --- | --- |
| | 22mm solid heat treated spring grade 4140 chrome moly sway bar |
| | 15/16" x .156" wall 4140 chrome moly extreme duty end link adjusters |
| | 5/8" chrome moly spherical rod ends with Teflon« self lubricating race |
| | 3/16" CNC laser cut and formed mounting saddles with grip-lock teeth (no welding onto the rear required). |
| | Heavy-duty 7/16" u-bolts |
| | 1/4" thick laser cut and CNC formed steel upper end link mounts |
| | Prothane polyurethane bushings and silicone grease |
Specify your axle tube diameter and color choice below.
Pics below are of the bar installed on our own GN!
Click to see full size.
G-Body Rear Pro Touring Sway Bar $439 and up
Order below!
BACK TO G-BODY SUSPENSION PARTS PAGE